Surveillance cameras are a great tool to protect and secure property by deterring theft and vandalism and capturing suspects on camera. However, how much good can an elaborate security camera suite do if the cameras aren't being watched?
Interactive remote monitoring is the process of monitoring a property through onsite security cameras and other infrastructure and equipment and responding to activity or events in a timely, appropriate manner. Virtual guarding is comparable to a physical security guard monitoring your property, but instead of being physically present, a virtual security guard has the ability to monitor and secure your property remotely via the internet at a fraction of the cost.  plus it has been proven to be more effective.
How Does Remote Monitoring Work?
Surveillance cameras on a property can be equipped with Artificial Intelligence (AI) and other video analytics technology to monitor for abnormal or prohibited activity. There are a variety of technologies you might choose to add on to meet your property's needs, including motion sensing, heat sensing, lidar, radar, vaping/smoking detection, and more.
From a remote Command Center, a virtual guard will receive an alert and a brief video clip of the activity that triggered the alert, as well as a live view of the scene. After reviewing the event, the virtual guard will then respond appropriately based on pre-established protocols determined by the client. This may include activating a voice announcement, alerting onsite security officers of the event and its location, or dispatching local law enforcement based on the severity of the event.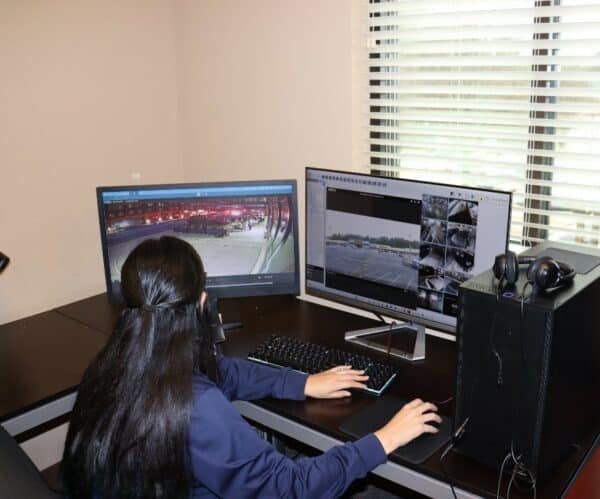 Types of Interactive Remote Monitoring Response
Audio Capabilities
It is highly recommended that remote monitoring clients equip and secure their properties with two-way audio speaker/mics with speech capabilities throughout the location. With these measures, virtual guards can monitor for alarming sounds, like screams or gunshots, but also greet staff and visitors, make sitewide announcements, or interact with employees, visitors, guests and trespassers or vandals, all while following site-specific protocols and delivering brand-friendly messages. Examples of situations where audio capabilities have proven to be effective include:
Greeting employees, customers, or guests when they enter the business
Specialty Announcements of Instructions, Site Issues, Special Events that are happening, or ongoing sales or deals for customers and guests
Possibly Alerting patrons that the site is actively being monitored for safety and convenience; that the site is subject to video monitoring and recording
Warnings to potential trespassers or vandals that all activities are being monitored and recorded, directing calls for assistance or potentially asking them to leave the property and that the location is currently closed, and if they do not leave then additional actions will be taken
Audio announcements are often enough to deter those with bad intentions. However, if these are not effective, Virtual Security Guards can dispatch onsite security officers or local law enforcement to address an incident on a case-by-case basis and secure the business and its property.
Onsite Security Officer Support
On properties where a physical security officer is visibly monitoring the property, there may be blind spots and limitations to an officer's oversight of the property and the speed with which they can respond to an event. Remote camera monitoring not only gives virtual guards a complete view of the property but also acts as support for the onsite guard, improving their performance and efforts in creating a safe, secure environment. If there is activity or an event that the security officer can assist with but isn't present in the moment, the virtual guard can direct them to a specific location and give details of the event before they arrive, preparing them for what they may be walking into.
Additionally, virtual guarding can serve as an additional method of accountability and supervision of the physical guard. Virtual guards can perform audits or checks to ensure that the officer is on task, wearing the current uniform, completing the responsibilities assigned to them, and strengthening their performance and adding value to your security service.
Law Enforcement Support
If there is not a security officer onsite or if an event is too complex or dangerous for the guard to handle alone, a virtual guard can call local law enforcement and alert them of the incident. The virtual guard can provide them with specific details and locations of incidents in near real-time so that they are better prepared to respond appropriately. Additionally, if legal charges or insurance claims are filed following an incident, remote monitoring can provide evidence through photos and detailed reports to be used by prosecutors or insurance claim investigators.
Features of Remote Guarding Services
Remote Interactive Monitoring
Virtual officers have access to live video surveillance streams and recorded security video from client properties through security cameras and other infrastructure installed on the property. Additionally, AI (Artificial Intelligence) technology and other resources are applied through monitoring, alerting Virtual Security Agents to activity or events as they occur. AI decreases the number of false alarms triggered by security cameras, allowing Agents to focus on valid inappropriate behaviors.
Proactive Virtual Video Tours and Employee Escorts
Clients can opt-in for scheduled or random remote tours of their properties by our virtual security guards. Like a foot patrol completed by an onsite Security Officer, virtual guards conduct a tour of a property through onsite video surveillance cameras and infrastructure. Unlike physical security guard patrols where the Security Officers may have a visible pattern of patrol, criminals cannot observe the patterns of Virtual Security Officers. This prevents suspicious or criminal activities from slipping under the radar and ensures that your site is secure.
Video Operational and Safety Auditing
A Video Operational Audit is the video examination or investigation of the way an organization is running its business. It is a Video Audit of People, Processes, and Technologies within an organization to assess and ensure the organizational policies and procedures are being followed. Also, it is a way of ensuring compliance and proof of compliance to all laws, including labor laws, that any business may need to operate within.
The goal of a Video Audit is to improve business operations and to add significant value to the business. This is done by identifying issues within the business associated with people, process, and technology that are happening which the business ownership/management may not have been aware of so that corrective actions can be taken to improve the safety, efficiency, effectiveness, and overall performance of your business processes.
Making improvements by using the data delivered in a Video Audit will lead to improved effectiveness and efficiency of a company's operation. Ongoing Video Auditing of People, Processes, and Technology will lead to greater profitability, legal compliance, and an increase in both employee and customer satisfaction.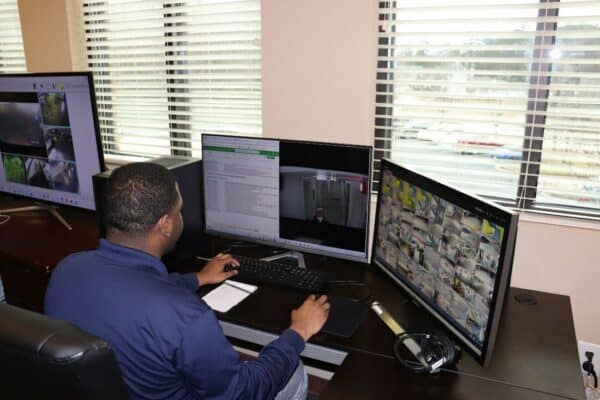 Made To Be Mobile
Perfect for rapid, temporary, or long-term deployment, the Camera and Light Trailer is equipped with:
Solar power and cellular data, making it self-sufficient
Multiple 180 ° cameras
Pan-tilt-zoom (PTZ) cameras
Audio speaker used to speak down to employees, visitors, trespassers and others as needed
Strobe lights that can be activated as a deterrent to trespassers
Motion sensors
Night vision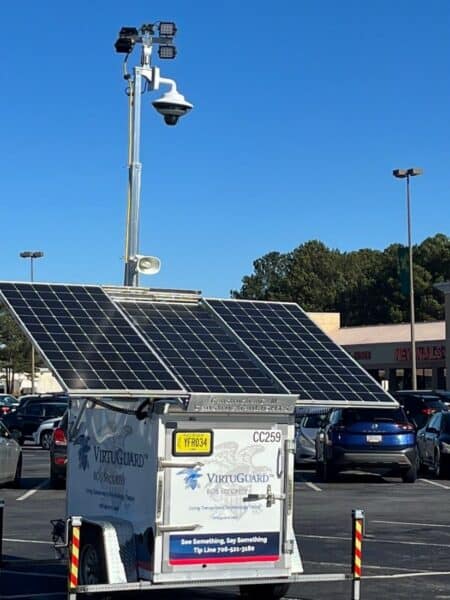 The trailer can be easily hitched to a vehicle, making transportation painless. Additionally, the trailer can be customized/tailored to your specific needs. Whether your intended use is for construction sites, parking lots, farms, or other outdoors assets, the Camera and Light Trailer can act as virtual eyes and ears for your property when equipped with a remote monitoring solution.
Construction Cameras
Ideal for short-term use, pole-mounted cameras can be easily moved and positioned to gain a better view of an outdoor property. Benefits include:
Portability
Remote Access
Deterrence
Versatility
Easy to Power
Cost-Saving
Simplicity
Remote Video Monitoring in Action
A busy outdoor shopping center began implementing remote video monitoring using their existing security cameras and resources in addition to being issued a Mobile Surveillance Trailer to monitor their parking lot and hiring a physical security guard to be present at the location from 6am to 10pm. In a month's time, remote video monitoring worked to deter and assist law enforcement in stopping two potentially fatal incidents.
Remote Monitoring Stops Man Making Violent Threats
The first incident took place on a Monday morning at 9:55am when the monitoring Command Center received a text message from the onsite security officer, alleging that a man within the gym on site was raising his voice and making violent threats. A member inside the gym reported that the man commented, "I don't want to shoot you, but I will." He then left the building but told other patrons that he was going to get his gun.
The Monitoring Agent then pulled up the live video footage to watch the man's actions, finding the man entering his vehicle which was parked in the fire lane in front the gym. The suspect began opening the doors and trunk of the vehicle, throwing papers and other items onto the ground nearby while appearing visibly upset. Continuing to observe the situation, the physical security officer asked the Agent to dispatch local police to the shopping center and to also relay a voice down audio command. The voice down announcement was initiated and the local police were called at 9:56am.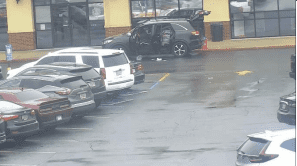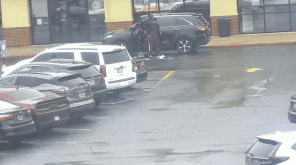 At 10:03am, only eight minutes after the physical security guard was first notified of the event, the police arrived at the gym. Upon their arrival, the police officers approached the suspect and proceeded to handcuff him before placing him in the back of the patrol vehicle. The officers then cleaned up the items the man had thrown from his car into the parking lot. At 10:40am, a tow truck arrived at the scene and removed the vehicle from the property. After the vehicle was removed the officers left the site at 10:44am with the suspect detained in their vehicle.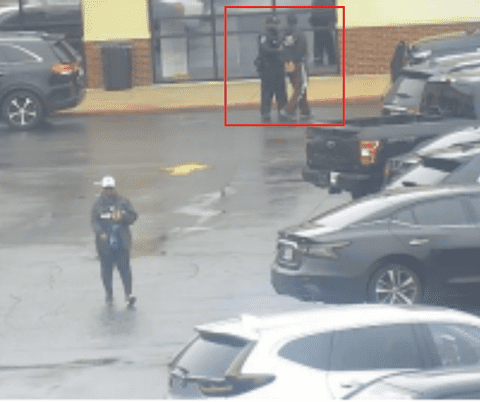 Concerned with theft, loitering, and the overall safety and security of the center, the property managers brought it both onside security and remote video monitoring to improve both tenant and customer satisfaction.
Remote Monitoring Stops Armed Robbery in Progress
Less than two weeks later, the Mobile Surveillance Trailer allowed virtual guards to respond to a potentially fatal incident in real-time. At 3:24 am, during the hours without a physical security guard being present onsite, the Command Center received an alert triggered by Artificial Intelligence (AI) that alerted the virtual guards to movement occurring in the parking lot that was being monitored by the trailer. The Agent observed three individuals running around in the parking lot, all of which were wearing black hooded sweatshirts with hoods up, black pants, and gray or white shoes.
Soon after beginning to observe the event, one individual appeared to pull out a gun and hold the other two individuals at gunpoint. A Monitoring Agent immediately activated the trailer's strobe lights and initiated the emergency voice down procedure to inform the individuals that the area was being live-monitored and that local law enforcement had been notified.
Simultaneously, another Monitoring Agent was calling local law enforcement and providing details about the unfolding event, including how many individuals there were, where in the shopping center they were located, etc.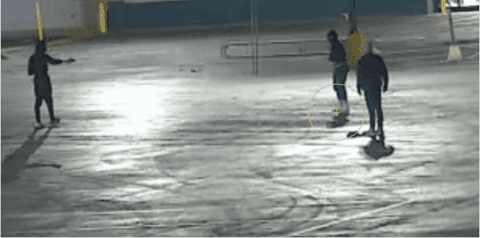 After the audio awareness announcement was made, the three individuals began running in the same direction towards a quick service restaurant, the individual with the gun appearing to be chasing the other two until they are all out of the camera's view.
Soon after, a local patrol vehicle was observed by the Command Center entering the parking lot to respond to the incident.
The Value of Remote Monitoring
At this single site, remote video monitoring helped to resolve two potentially fatal acts of violence within a two-week span. Not only has remote monitoring, in collaboration with physical guards and local law enforcement, worked to secure the shopping center, but also increase tenant and customer satisfaction.
Popular Applications of Remote Video Monitoring
Interactive remote monitoring can be applied to any business that is equipped with security cameras and other security infrastructure. Whether your concerns are guard supplements, robbery, burglary, perimeter monitoring, access control, shrinkage reduction, or customer relationship management (CRM), remote monitoring can enhance the safety, security, and efficiency of your business.
People, Property, and Asset Protection with Remote Video Monitoring
Interactive remote monitoring allows a virtual guard to monitor your property or organization and react to events or activities in real-time. As a proactive and reactive approach to security, remote monitoring aims to prevent crime and stop it as it is happening.
Construction Cam has partnered with BOS Security's VirtuGuard™ to offer our customers a customized, lasting security solution based on the extent of your security concerns and needs. Like our Camera and Light Trailer, VirtuGuard™ can be tailored to your security needs and goals. Instead of acting with video recordings after a crime, like theft or vandalism, has already occurred, allow highly skilled and trained virtual guards to act in the moment.
Add value to your business by greatly reducing risk with a virtual security solution provided by VirtuGuard™.
To learn more about remote video monitoring, visit VirtuGuard.com or mention remote monitoring when you request a quote.